THE ALL-IN-ONE PROSPECTING PLATFORM
Automated Cold Email Campaigns + Lead Lists + Website Visitor Tracking + Predictive Analytics
All The Tools, Training & Technology You Need To Succeed
BuzzBuilder gives you everything you need to generate quality sales leads. Instead of cold calling, you'll be able to reach prospects using automated, yet highly-personalized cold email campaigns. And unlike other cold emailing tools that rely on a "spray and pray" approach, our ProspectPulse™ system uses predictive analytics and will help you target prospects who have the highest propensity to buy. It will even notify you the moment you should follow-up with a prospect. Hurray, no more wasted effort!
If all of this is new to you, don't worry–our team will help you create killer email content and optimize your outreach efforts. Most clients are up and running in just a few days.
What Will BuzzBuilder Do For You?
Generate Quality Lead Lists Based On Trigger Events & Business Intelligence
Let's put an end to the constant "hunt and peck" for leads, or the need to build your own lead lists. BuzzBuilder uses the latest technologies to scour the web for prospects who are the best fit for your solution. We can even locate prospects who are using certain software or hardware, have announced recent venture capital, or are actively hiring for certain positions. Then we'll find all their relevant contact information, run them through our in-depth validation process, and deliver a list that is at least 95% accurate.
95% verified data makes our list the most accurate

Scrape indeed.com and target companies who are hiring

Locate companies who are using certain software & hardware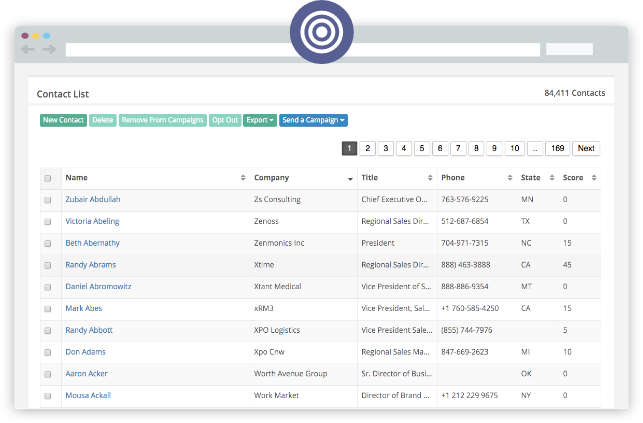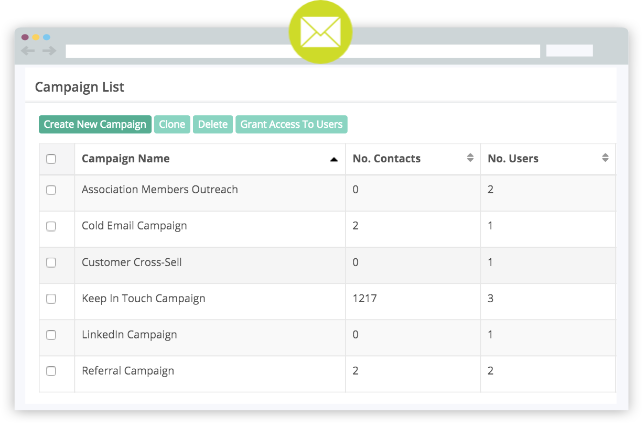 Send Automated Cold Email Campaigns That Reach Crazy-Busy Executives
Need to fill your pipeline with more qualified leads but don't like to cold call? No problem! With the click of a button, send cold email campaigns that reach decision makers and fill your sales funnel with appointments. Imagine a constant flow of new opportunities delivered to your inbox every day. Very cool.
Automate your prospecting and generate appointments 24/7.

Send personalized emails to purchased lists. If you need help acquiring a quality lead list, we can help!

Automatically send follow-up emails to prospects who don't respond.

The software is awesome. Next-gen drip email campaign management that automatically keeps an eye on potential clients' responses and movements across your website… What's not to like?
Use ProspectPulse™ To Identify Your Most Interested Prospects
ProspectPulse™ uses advanced lead scoring and predictive analytics that monitor the interest level of each prospect. At a glance, you can track prospects who have recently visited your website, read your emails, forwarded your messages, clicked on links, or read your attachments. Then it will notify you when a prospect shows enough interest and is ready for a follow-up.
Advanced website tracking shows you who is on your site.

Our Lead Scoring System will show you who is most interested.

Track opens, forwards, links clicked, and attachments read.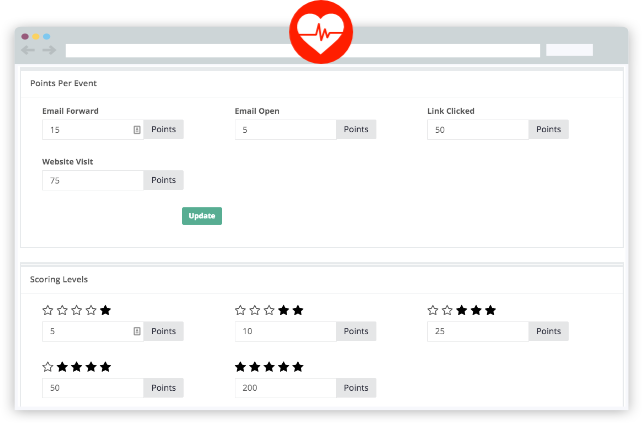 We've been able to fill our pipeline with qualified leads by casting a wide net and finding those "hand raisers" who have the pain point our product addresses and are ready for a demo.
Streamline Your Follow-Up Efforts, Increase Conversion, & Eliminate Data Entry
In sales, we know that timing is everything. Have you ever missed an opportunity simply because you didn't follow up soon enough? BuzzBuilder makes follow-up easy by creating a daily list of the most important contacts you need to call. It will even send you HotLead Alerts™ that notify you the moment someone shows enough interest to warrant a follow-up call. Then, once you connect with the prospect, BuzzBuilder will automatically remove them from any active campaigns and log the call for you in the contact's file–no more data entry!
Focus your prospecting efforts on your best prospects.

Connect with more executives when you know they're available.

Easily follow up, even when you're on the go.
I like that the e-mails look like they come from me and that I get immediate alerts, so I can jump on those interested ASAP!
Become a Prospecting Ninja With Courses From BuzzBuilder University
Sales tools are only effective if you have great planning and execution. BuzzBuilder University offers mastery courses in topics such as cold email messaging, follow-up skills, and handling objections. All of our content is powered by TheProspectingExpert.com, a nationally-recognized leader in business development skills. We'll make sure you have everything you need to develop a repeatable, predictable process for daily prospecting and lead generation. Let's turn our "secret sauce" into your secret weapon!
Learn the latest sales strategies from TheProspectingExpert.com

Create killer email content and optimize your response rates.

Increase your confidence and prospect like a pro!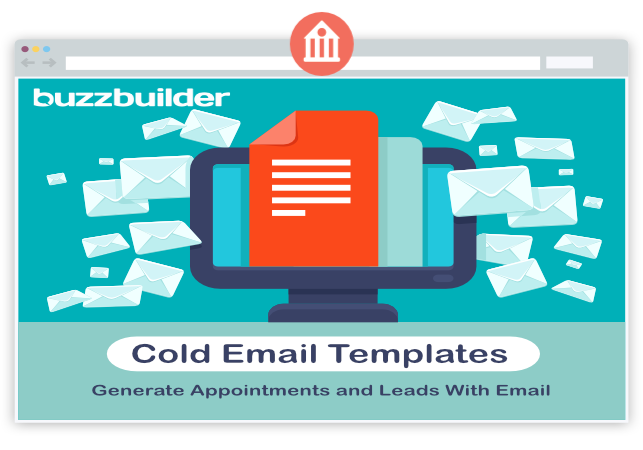 Powerful
Features
, Yet
Super
Simple To Use
Automated Drip Emails
Set up campaigns that will automatically send follow-up emails to prospects.
Website Visitor Tracking
Track which prospects are visiting your site in real-time and alert a Rep to follow-up
Email Tracking
Track email opens, forwards, links clicked and attachments opened.
HotLead Alerts ™
Receive real-time alerts the moment a prospect shows interest, and never miss another opportunity.
Lead Scoring
Automatically rank your prospects based on interest level and focus on your best leads.
Salesforce.com App
Send drip emails directly via salesforce.com and organize your contact lists for effective follow-up.
FREQUENTLY ASKED QUESTIONS
CAN I SEND EMAILS TO PURCHASED LISTS?
YES! BuzzBuilder was built for cold emailing and is one of the few apps that allows you to send to purchased lists. Most "bulk email" tools will require you to add an opt-in form to your website and then only send emails to people who complete the form. Our advanced email delivery technology can connect with your gmail or Outlook account to ensure that emails aren't blocked by spam filters and look as personalized as the emails you'd manually send.
WHAT KIND OF SUPPORT WILL I RECEIVE?
Our award-winning support is the biggest reason why our clients succeed. No matter which tool you choose for lead generation, it isn't as important as the process you create for executing the tool. Our dedicated Client Success Managers will help you with everything you'll need to create the ultimate "lead generation machine." You'll receive proven email templates, content coaching to help you build killer campaigns, follow-up tactics, and more. We'll also provide monthly Maximizer Sessions that will help you measure your progress and give you ongoing ideas for improving your results.
WILL YOU HELP ME CREATE MY EMAIL CAMPAIGNS
As part of our implementation, we offer a Campaign Design Workshop that will show you how to become a master of email messaging. We'll share our unique strategy for cold emailing and ensure that your emails get noticed in the inbox and generate interest. We can also help you determine how many emails to send and how often to send them for optimum results.
HOW ARE YOU DIFFERENT THAN EMAIL MARKETING TOOLS LIKE MAIL CHIMP?
The biggest difference is that BuzzBuilder is a turn-key prospecting platform and not only an emailing tool. There are hundreds of basic emailing tools such as Mail Chimp and Constant Contact. These apps are great for sending newsletters to opt-ins and customers, but they have strict policies against sending to purchased lists or cold prospects. This is because their traditional bulk email servers will get blocked by spam filters when sending these types of emails. BuzzBuilder is different because it uses advanced technology for delivering cold emails. We also give you features like lead scoring, website visitor tracking, and follow-up management that none of the email marketing vendors offers. This makes us the best solution for lead generation and prospecting.
CAN YOU JUST DO EVERYTHING FOR ME?
Absolutely! We have a team of Virtual Marketers who can provide a turn-key lead generation solution. We'll create your lead lists, build your email campaigns, launch them, qualify the incoming leads, and then send you the best opportunities. We can even manage your LinkedIn account and build your LinkedIn connections. Request a Demo to talk about your options.